Models
LPG refuelling sites in Sweden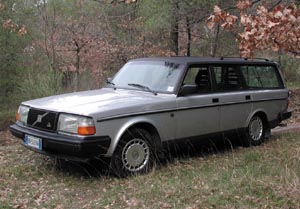 An Italian 92-240Polar with an unusual vinyl roof

"Continuous attention"

The 240Polar and the 240SuperPolar sold on the Italian market are popular cars. Even though the engine is quite small, the standard equipment is quite rich. Therefore many cars are exported to places elsewhere in the European Union. On this page you can read the story of an Italian 240Polar which stayed in Italy. The words were written down by Stefano Cecutta:

"I can say that I bought my actual Volvo second hand in 1996. It is a model 92 240 Polar from 1991 with a B200F engine. My first 240 was a 240 GLE D6 from 1983. In 1999 I had a major refit of the mechanics and the body. The job, made by Autoska S.p.A. Prenestina here in Rome, was very good although not really cheap. I paid 4000 euro. The vinyl roof was added at this stage.

Now, after almost four year and a total of 273,000 kilometres, she should need another cure. Old ladies need continuous attention, you know. But at the moment I have no money, so, I use her with parsimony.

What else can I say. As long as she stays with me I will stay with her. I do not want another car. It is comfortable and robust. I like to drive it better than any other car I have tried. I had six cars in my life of which two were Volkswagen Beetles.

My 245 is like a good jacket that goes along with jeans or tie as well. Your wife tells you to use the other jackets in your wardrobe, but you would just use that same one everyday.

I do not know if the Volvo for Life slogan is a good thing or a curse, but it fits very good with me."
Nice to know



The picture on this page was taken by Stefano Cecutta