In Dutch and Swedish
---
Colours
LPG refuelling sites in Sweden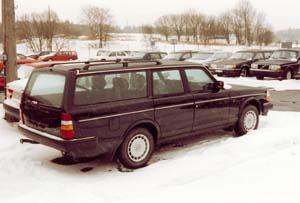 Already during the PV444 era colour number 19 existed. Even a 93-245 dresses in black

Colour codes

The vehicle identification plate of the 200 reveals the code number for the colour of the car, stating the colour of the body and the manufacturer of the paint. For instance number 142-2 means dark green paint (142) from the make Herberts (2).

Water-based or dissolvable paint are stated with a fifth digit. Number one means dissolvable paint and number two water-based paint. The fifth digit is valid from about December 1988. This because of the introduction of these paints.

In the list colours are mentioned with their common name (second column) and the name Volvo used in the brochures. It is possible that the names from the brochures differ from one model year to another. Sometimes even blank spaces and hyphens are used inconsistently. But first I will state the codes of the manufacturers.
Glasurit (BASF)
Herberts (Standox, DuPont Performance Coatings)
Beckers (Becker Industrial Coatings)
Sikkens (Akzo Nobel Car Refinishes)
-
-
IVI
-
Nota Bene. The following range of colours is not complete.
| | | | |
| --- | --- | --- | --- |
| Colour number | Colour | Name in Dutch plus model year | Name in Swedish plus model year |
| 19 | Black | Zwart 79, 84, 85, 86, 87, 88, 89, 90, 91, 93 | Svart (80,) 81, 82, 83, 84, 85, 86, 87, 88, 89, 90, 91, 92, 93 |
| 42 | White | Wit 78, 79, 80, 81, 82 | Vit 78, 79, 80, 81, 82 |
| 46 | Red | | |
| 67 | Blue | | |
| 74 | Televerksorange | Televerksoranje 86, 87, 88, 89, 90 | Televerksorange 86, 87, 88, 89, 90 |
| 79 | White | | |
| 80 | Grey | | |
| 84 | Yellow | | |
| 89 | Blue | | |
| 90 | Blue | | |
| 91 | Green | | |
| 94 | Green | | |
| 95 | Blue | | |
| 96 | Blue | Donkerblauw 78, (80,) 84, 87, 88, 89 | Mörkblå 81, 83, 84, 87, 88, 89, Blå en/och mörkblå 82 |
| 97 | Yellow | | |
| 98 | Grey | | |
| 99 | Blue | | |
| 100 | Yellow | | |
| 101 | Grey | | |
| 104 | Blue | | |
| 105 | Gold metallic | | |
| 107 | Yellow | | |
| 108 | Blue | | |
| 109 | Green | | |
| 110 | Green | | |
| 111 | Blue metallic | | |
| 113 | Orange | Oranje 79 | Orange 78 |
| 114 | Blue | | |
| 115 | Green blue metallic | | |
| 116 | Yellow | | |
| 117 | Red | | |
| 118 | Green | | |
| 119 | Beige metallic | | |
| 120 | Orange metallic | | |
| 121 | Blue | Blauw 78 | Blå 78 |
| 122 | Beige | Beige 78 | Beige 78 |
| 123 | Green | Groen 78 | Grön 78 |
| 125 | Brown | Roodbruin 78, 79 | Rödbrun 78 |
| 126 | Blue | Blauw metallic 78 | Blå metallic 78 |
| 127 | Green | Lichtgroen metallic 78 | Ljusgrön metallic 78 |
| 128 | Yellow | Geel 78, 79, 80, 81 | Gul 78, 79, 80 |
| 129 | Red | Rood 78, 79, 80 | Röd 78, 79, 80 |
| 130 | Silver metallic | Zilver()metallic 78, 79, 80, 81, 82, 83, 84, 85, 86, 87, 88, 89, 90, 91, 93 | Silver metallic 78, 79, 80, 81, 82, 83, 84, 85, 86, 87, 88, 89, 90, 91, 92, 93 |
| 133 | Green | | |
| 134 | Blue metallic | Lichtblauw metallic 79, 80, 81, 82 | Ljusblå metallic 79, 80, 81, 82 |
| 135 | Gold metallic | Goud metallic 79, 80, 82 | Guld metallic 79, 80, 82 |
| 136 | Green metallic | Groen metallic 79, 80 | Grön metallic 79, 80 |
| 137 | Grey | Beige 79, 80, 81 | Dimgrå 79, 80 |
| 138 | Brown | Donkerbruin 79, 80, 81 | Brun 80, Mörkbrun 79, 81 |
| 139 | Blue | Blauw 79, 80, 81, 82, 83, 84 | Dimblå 79, 80, 81, 83, 84, Blå en/och dimblå 82 |
| 140 | Green | Groen 79 | Dimgrön 79 |
| 141 | Red | Donkerrood 80, 81, 82, 83, Wijnrood 84 | Vinröd 80, 81, 83, 84 |
| 142 | Green | Groen 80, Donkergroen 81, 82, 83 | Djupgrön 80, Mörkgrön 81, 82, 83 |
| 143 | Orange | | Mörk orange 81 |
| 144 | Brown metallic | Goud metallic 80, 81 | Nougat metallic 80, 81 |
| 146 | Brown | Lichtbruin 81 | Dimbrun 81, 82 |
| 147 | Green metallic | Groen metallic 81 | Ljusgrön metallic 81 |
| 148 | Red metallic | Donkerrood metallic 81 | Vinröd metallic 81 |
| 151 | Black metallic | Zwart metallic 82, 83 | Svart metallic 82, 83 |
| 152 | Yellow | Geel 82 | Gul en/och ljusgul 82, Gul 83 |
| 172 | Beige | Beige 82 | Beige 82, 83, 87, 88, 89 |
| 173 | Red | Rood 82, 86, 88 | Röd 82, 83, 84, 85, 86, 87, 88 |
| 175 | Red metallic | Rood metallic 82, 83 | Röd metallic 82, 83, 85, 86, 87 |
| 177 | Silver metallic | Lichtgrijs metallic 83, Grijs()metallic 84, 85, 86, 87, 88, 89, 90, 91, 93 | Silvergrå metallic 83, 85, 86, 87, 88, 89, 90, 91, 92, 93, Grå metallic 84 |
| 178 | Green metallic | Lichtgroen metallic 83, Groen metallic 84, 85 | Silvergrön metallic 83, 85, Grön metallic 84 |
| 189 | White | Wit 83, 84, 85, 86, 87, 88, 89, 90, 91, 93 | Vit 83, 84, 85, 86, 87, 88, 89, 90, 91, 92, 93 |
| 190 | Yellow | | Gul 84, 86, 87, 88, 89 |
| 192 | Blue | | Ljusblå 83, 84 |
| 194 | Blue metallic | Blauw metallic 83 | Blå metallic 83 |
| 197 | Black metallic | Zwart metallic 84 | Svart metallic 84 |
| 200 | Blue metallic | Blauw metallic 84, 85, 86, 87 | Blå metallic 84, 85, 86, Mörkblå metallic 87 |
| 201 | Beige | | Beige 84, 85, 86 |
| 202 | Brown | | Mörkbrun 84 |
| 204 | Blue | Donkerblauw 85, 86 | Marinblå 85, Mörkblå 86 |
| 205 | Brown metallic | Bruin metallic 84, 85 | Brun metallic 84, 85 |
| 211 | Red | Wijnrood 85, 86, 87, 88 | Mörkröd 85, 86, 87, 88 |
| 212 | Grey | | |
| 213 | Blue | Blauw 85, Middenblauw 86, 87, 88, 89 | Blå 85, 86, Mellanblå 87, 88, 89 |
| 214 | Grey metallic | Donkergrijs metallic 85, Antraciet metallic 86, 88, 89, 90, 91, 93 | Antracitgrå metallic 85, Grå metallic 86, Mörkgrå metallic 88, 89, 90, 91, 92, 93 |
| 215 | Blue metallic | Lichtblauw metallic 85 | Ljusblå metallic 85, 86 |
| 400 | Beige metallic | Beige metallic 86, 87, 88, 89, 90 | Beige metallic 86, 87, 88, 89, 90, 91, 92, 93 |
| 401 | Brown metallic | | |
| 402 | Blue metallic | Blauw(-/)groen metallic 86, 87, 88, 89, 90 | Blågrön metallic 86, 90, Grön metallic 87, 88, 89 |
| 403 | Green metallic | Lichtgroen metallic 87, 88 | Silvergrön metallic 87, 88 |
| 404 | Blue metallic | Lichtblauw metallic 87 | Ljusblå metallic 87, 88 |
| 405 | Silver metallic | | |
| 406 | Blue metallic | Blauw metallic 88, 89, 90, 91, 93 | Mörkblå metallic 88, 89, 90, 91, 92, 93 |
| 409 | Red metallic | Wijn(-)rood metallic 89, 90, 91 | Vinröd metallic 89, 90, 91, 92 |
| 410 | Blue metallic | Lichtblauw metallic 91 | Ljusblå metallic 89, 90, 92 |
| 412 | Green metallic | Groen metallic 91, 93 | Grönblå metallic 91, 92, 93 |
| 414 | Red metallic | Robijnrood metallic 93 | Mörkröd metallic 93 |
| 415 | Blue metallic | Lichtblauw metallic 93 | Ljusblå metallic 93 |
| 600 | Grey | Grijs 86, Lichtgrijs 88 | Ljusgrå 87, 88 |
| 601 | Red | Rood 89, 90, 91, 93 | Röd 89, 90, 91, 92, 93 |
| 602 | Red | Wijn(-)rood 89, 90, 91 | Vinröd 89, 90 |
| 603 | White | Ivoor-wit 89, 90 | Elfenben 89, Benvit 90 |
| 604 | Blue | Donker()blauw 90, 91, 93 | Mörkblå 90, 91, 92, 93 |
| 605 | Blue | Blauw 90, 91, 93 | Mellanblå 90, 91, 92, 93 |